Rite in the Rain Outdoor, All Weather Expedition Journal Soft Cover Book No.512
Waterproof Notebook Originally developed by the US Military for field use in harsh environments. Now used as a staple tool for outdoor enthusiasts and professionals alike! 
SPECIFICATIONS
STAPLED FIELD-FLEX COVER
Tough yet flexible enough to conform to any pocket. Held together with nickel plated rust-resistant staples.
PACKED WITH INFO
Filled with crucial information: climbing tables, emergency procedures, journal pages, and a weather log, just to mention a few.
DEFEND YOUR NOTES
Ensure that your next climb's data returns with you regardless of the harsh elements.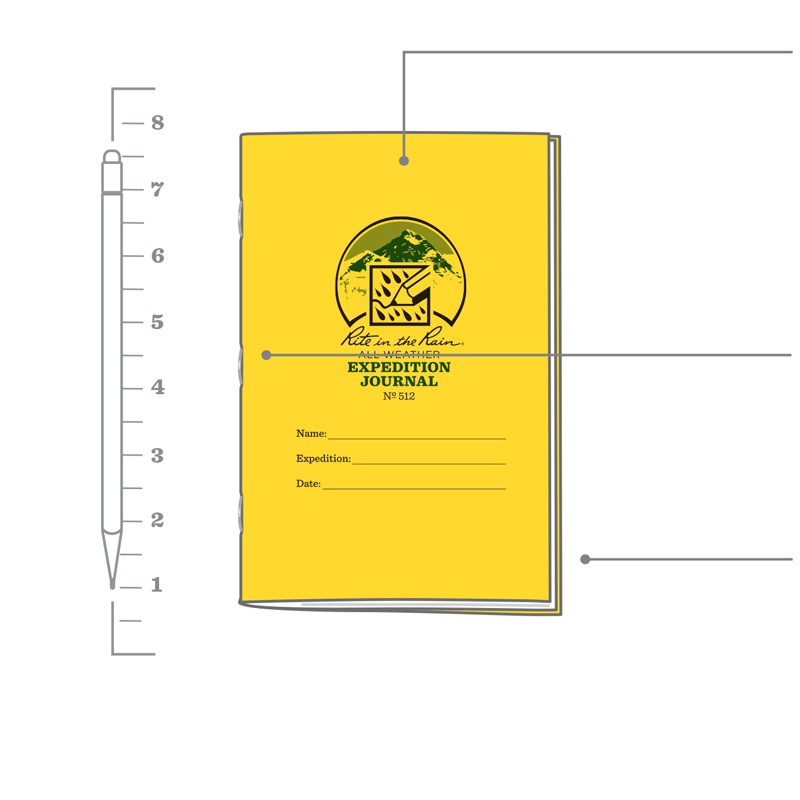 COVER
COLOR:

Yellow

MATERIAL:

Field-Flex

REFERENCE:

Imperial & metric rulers, photoscale, title/contact form
BINDING
STYLE:

Stapled

PROPERTIES:

Rust-resistant
ALL-WEATHER PAPER
COLOR:

white

SHEET SIZE:

4.625" x 7"

PAGES:

48 pages / 24 sheets

WEIGHT:

32#

 

Rite in the Rain

PERFORATED:

No
SINGLE UNIT
SIZE:

4.625" x 7" x .25"

WEIGHT:

.16 lbs

MANUFACTURED:

U.S.A.